PolyWorks Reviewer User Guide Tutorial
Guide to becoming a PolyWorks Metrologist
We regularly export PolyWorks projects so our customers can review, analyze, and measure as needed. This service can be more cost effective than requesting us to modify reports with more data. This guide will ensure you are able to use PolyWorks Reviewer effectively.
The example dataset is of a mold cover and ejector used for eco-friendly food containers. Our client is quantifying tooling wear.
1. Download PolyWorks Reviewer
Direct Link to PolyWorks Reviewer by Innovmetric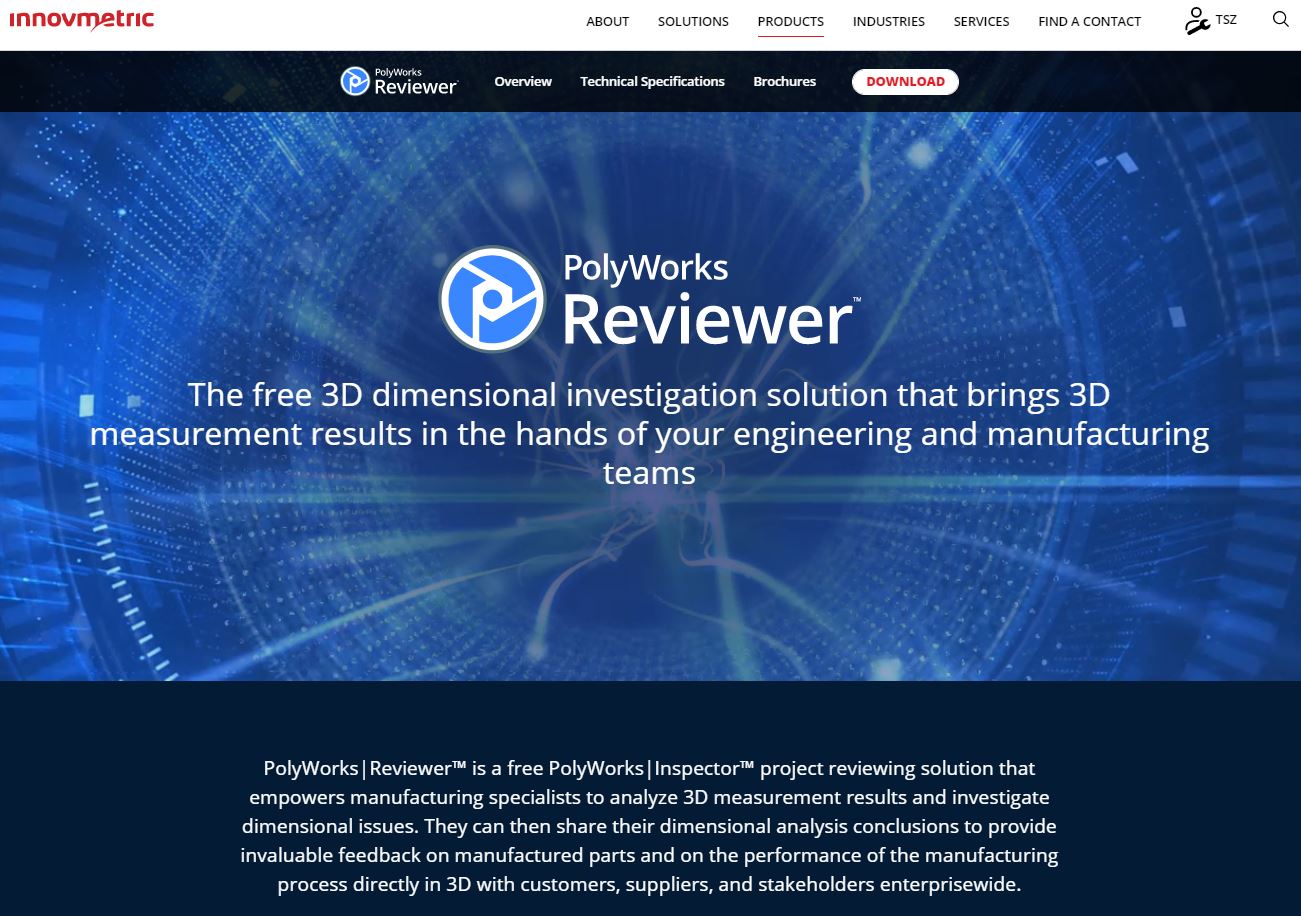 Open the Provided Dataset
Locate the provided, compressed dataset with the extension .pwzip. The dataset will open and decompress automatically by PolyWorks Reviewer.

Workspace
The workspace is the hub of the PolyWorks project. If the project is large there may be several projects within a Workspace. Navigate to the project of interest and double click to open it.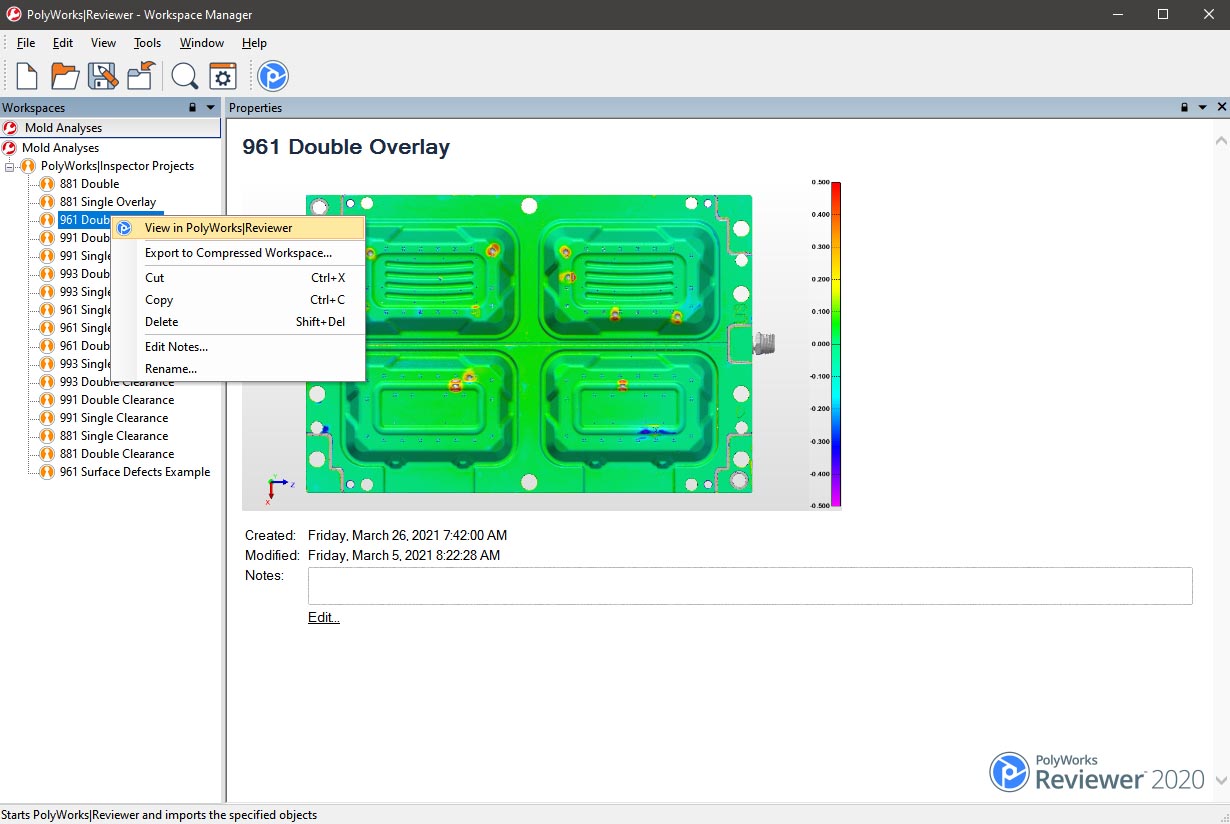 Activating Necessary Tools (Tree View)
There are several menus and tools that can be activated upon opening. A critical menu to open immediately is the Tree View. The tree view will give access to alignments, profile color maps, measured features, reports, and more. Activate the tree view by clicking the button in the red circle, or by right clicking on the blue band running across the screen.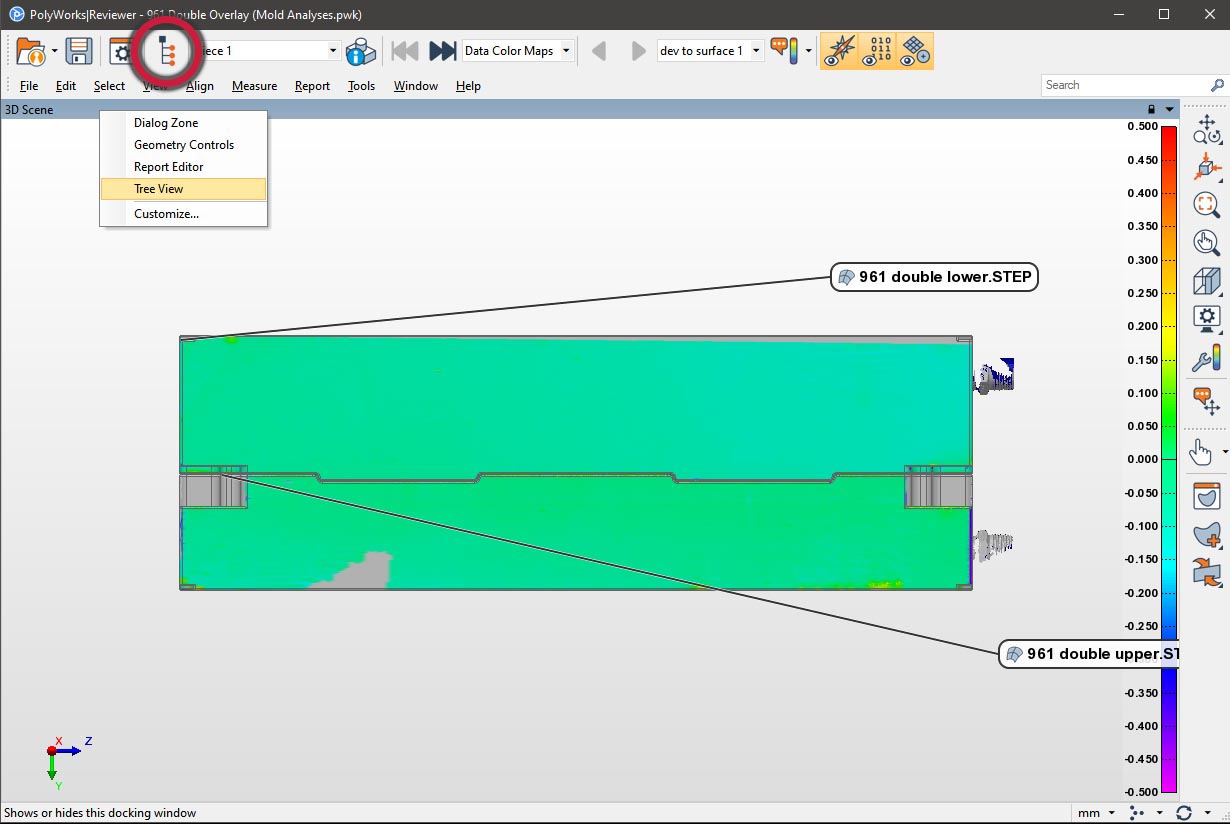 Navigation & Activating & Deactivating Objects
Spacebar is an integral keystroke for working with PolyWorks. Pressing Spacebar allows you to toggle the 3D Scene Selection between panning, zooming, and rotation or selecting data elements and features.
Selecting objects throughout the Tree and middle clicking is the fastest way to turn them on and off in the 3D Scene. Right clicking on objects allows you to enter several menus like object properties, annotation modifications, and more.
Objects to modify include measurement features created by HMS, cross sections, models and meshes, and report items.
Report Item Navigation
Report Items in the Tree View are the fastest way to return to interesting project views. Right clicking a Report Item, navigating to Edit, and Restoring the Project View will update the 3D Scene accordingly.
One can also organize everything using Control Reviewer but this feature is typically reserved for complex projects with several Datum Reference Frames and large drawings that require further organization.
Changing Alignments & Coordinate Systems
Many times there will be multiple alignments and coordinate systems for a project. They could be specific drawing Datum Reference Frames, or local profile alignments to understand form in a specific area. There could also be multiple scan files that are linked to separate alignments and coordinate systems.
Right clicking an Alignment and selecting Activate will update the scan data file and relative measurements accordingly. Alignments can only be created and adjusted using the full version of PolyWorks.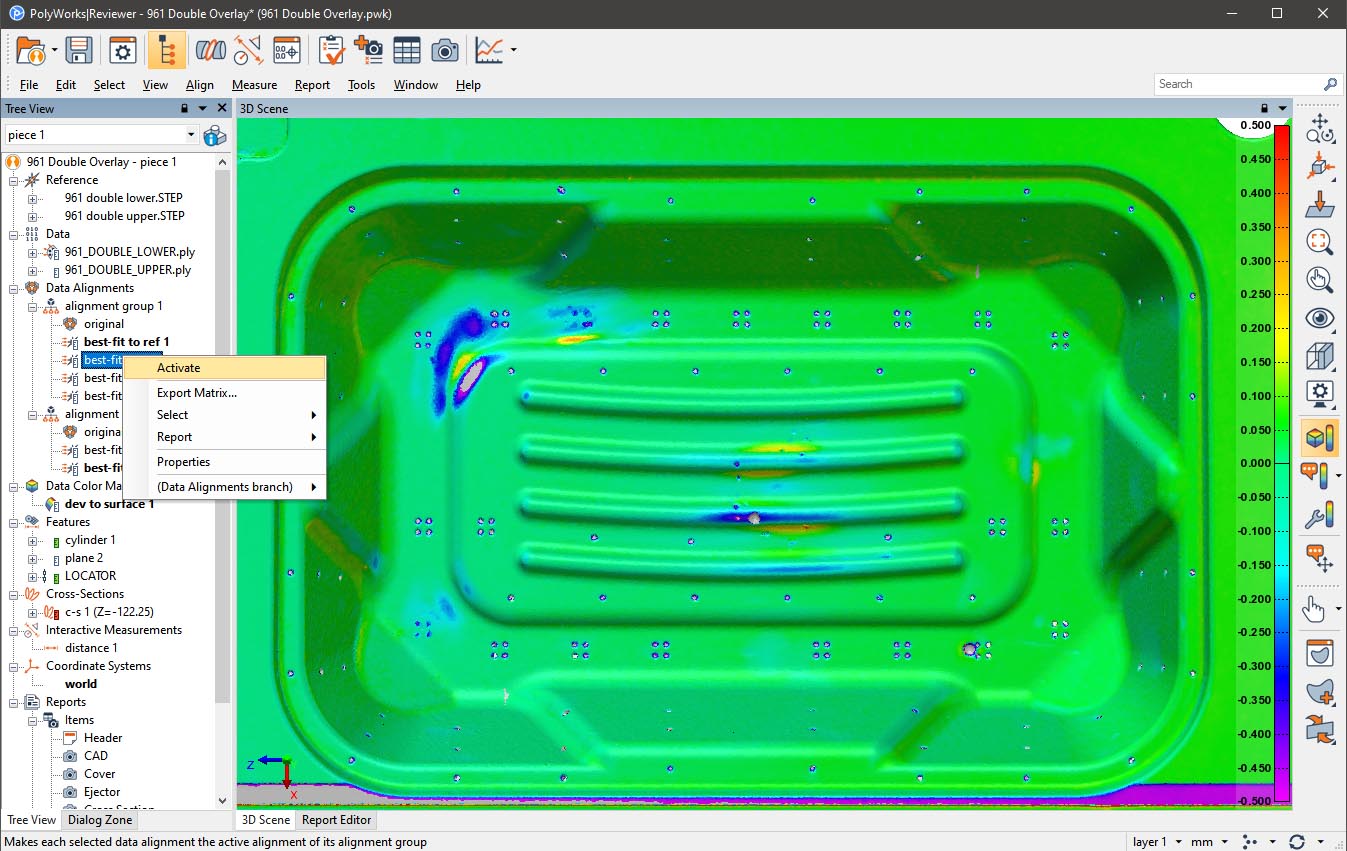 Picking & Modifying Profile Points
Clicking the "Create Color Map Annotation Points" allows you to quickly pick specific locations to measure profile deviation.
Hovering over this new annotation allows you to update it and move it accordingly.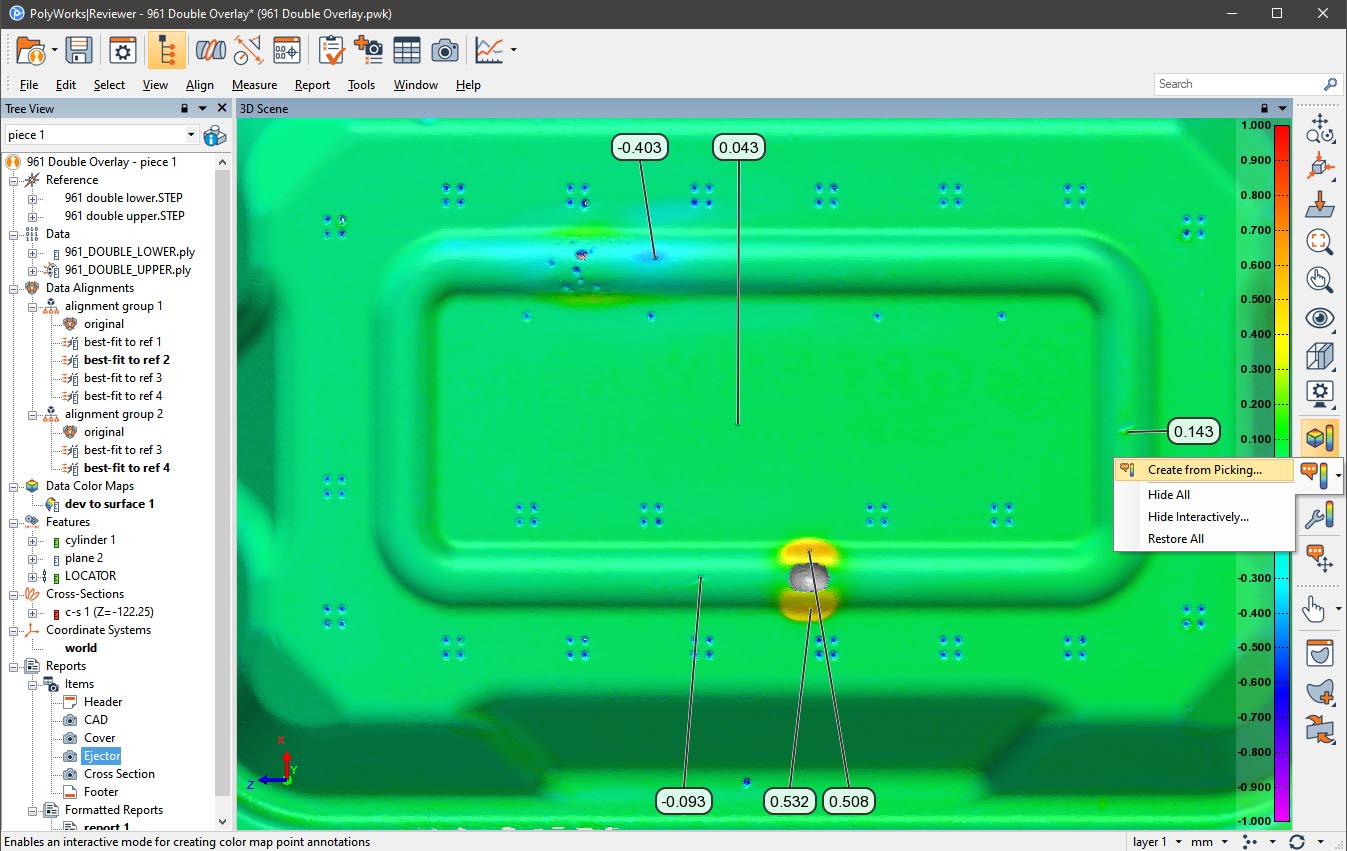 Adjusting Profile Color Scale
The Profile Color Scale can be adjusted – this can be fine tuned in many ways from pass/fail, to min/max parameters being adjusted to match the deviation of the part.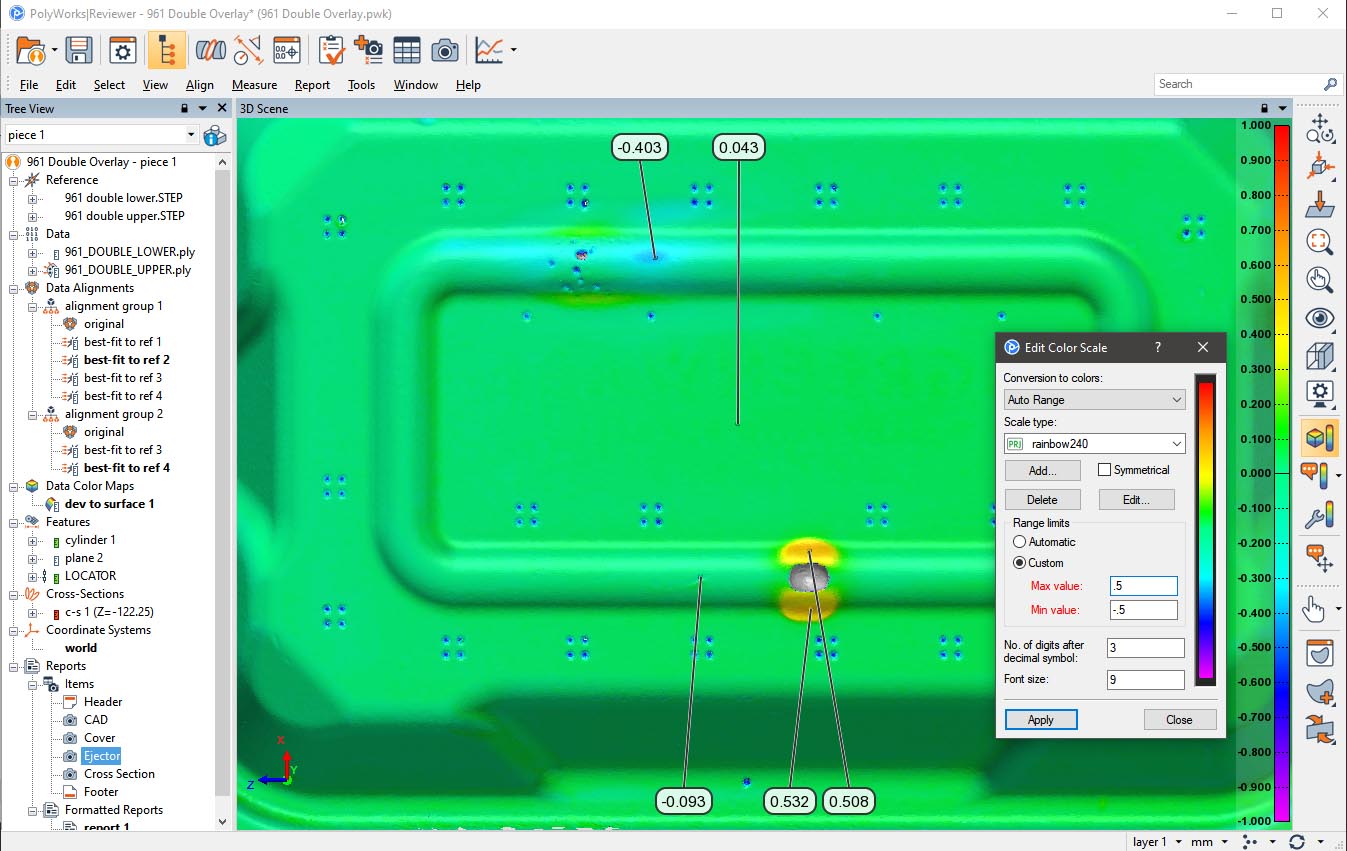 Analyzing Features
Extracted and Constructed features are reserved for the full version of PolyWorks. However, they will be present for review and analysis in PolyWorks Reviewer. For example, you can look through the properties and view exactly where extracted points are.
Basic Measurements
Basic Measurements can be performed in PolyWorks Reviewer. However, these are not repeatable and will need to be created manually. CAD defined features and constructed features are limited to the full version of PolyWorks.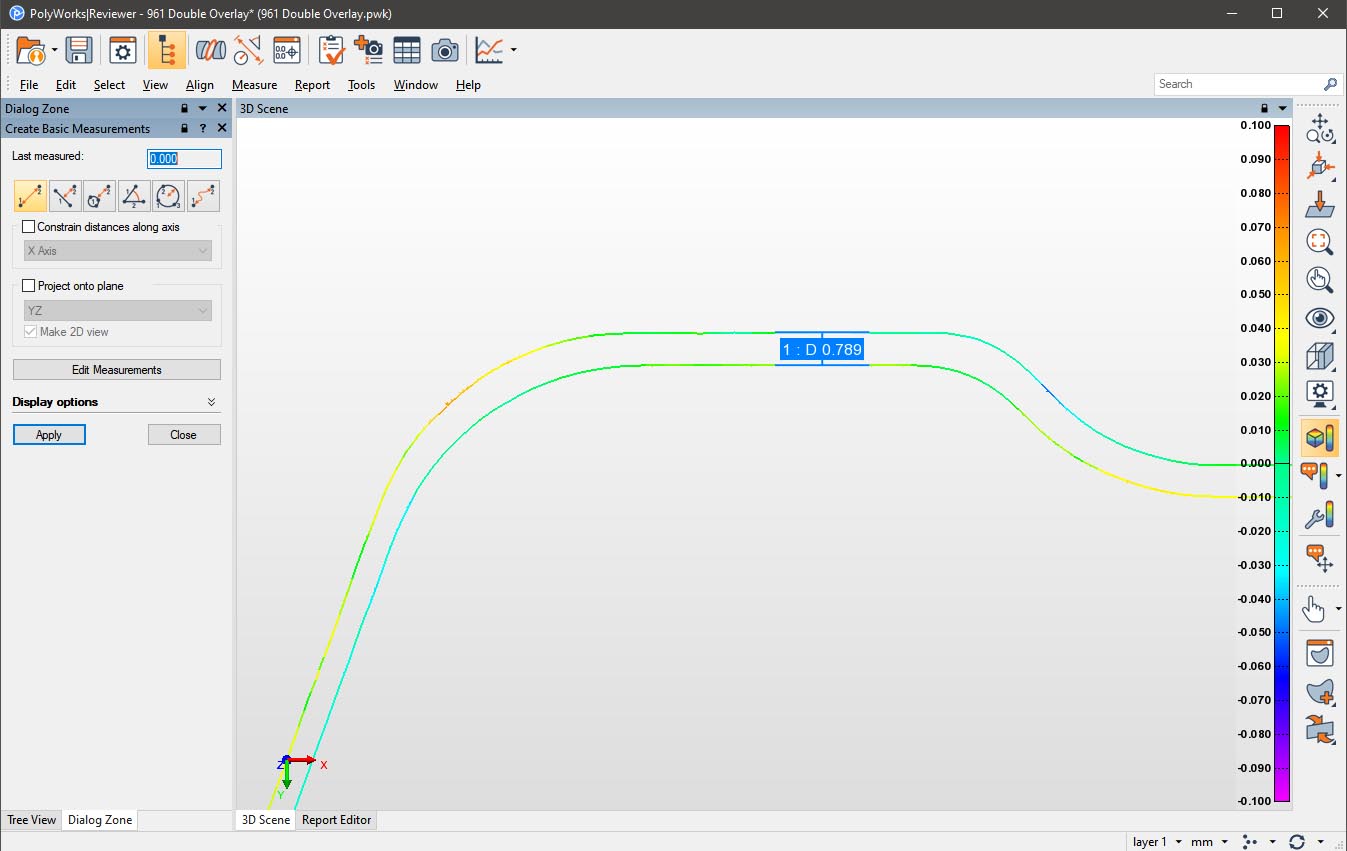 Exporting Images and Reports
Images and Reports can be saved and exported quickly. Navigate to the Reports section of the Tree View, right click on the item, and select Export.
Report Editor
The standard Haven Metrology Service report format will be included in each project. You can open this report and navigate to specific views by right clicking images within the report. There are many menus within the report editor for you to adjust. You can also drag and drop additional images.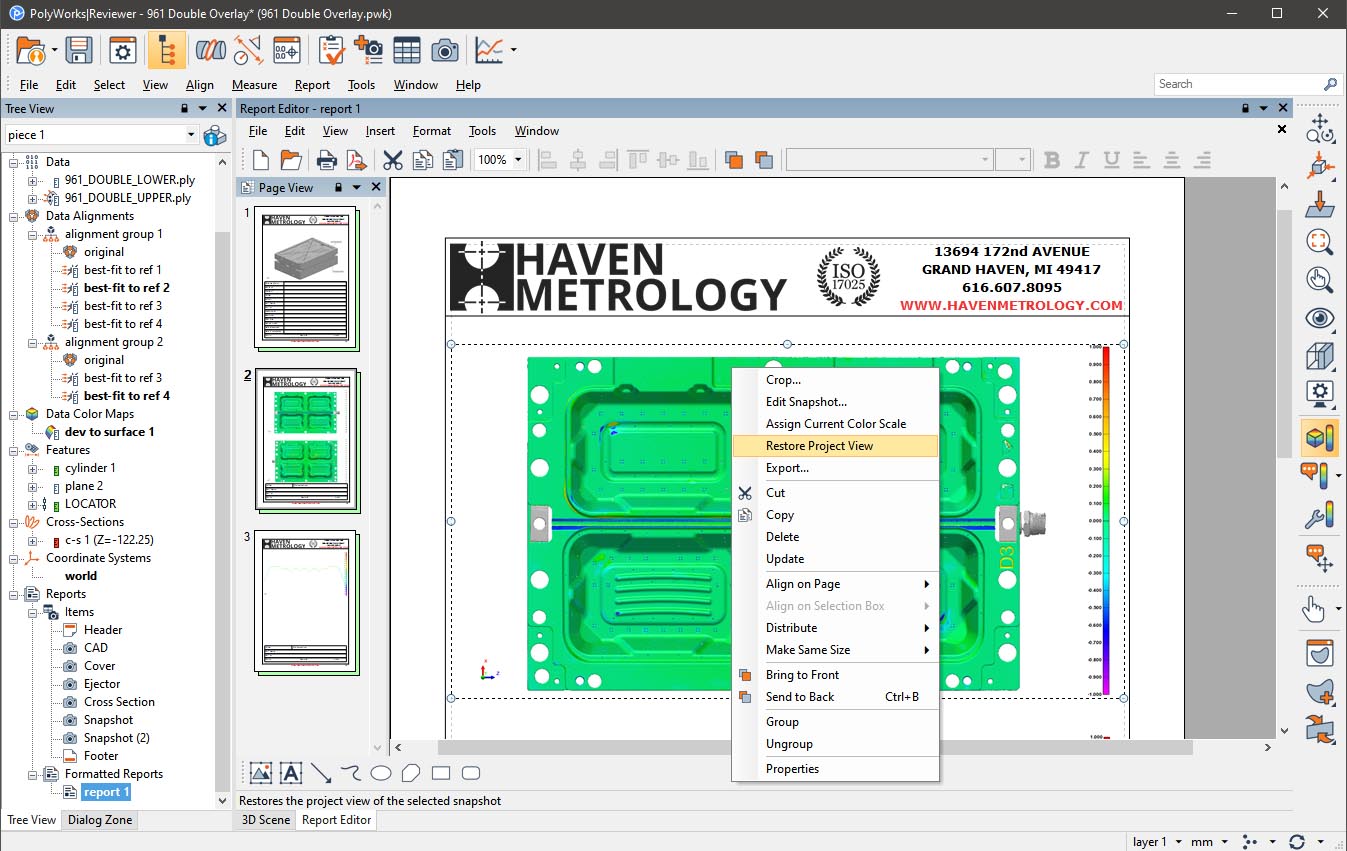 Object Control SPC and Excel Exporting
Some projects will contain several measured pieces. The measured features from these projects can be analyzed for SPC and exported into Excel quickly. Select the Object Control SPC icon and the pieces from the project will populate the tab to the left.