Resurrecting Historical V8 Engine Blocks & Cylinder Heads
Inspecting Mickey Thompson V8 Blocks & Heads
Because of the headers on our website we are asked every week if we can really CT scan entire engine blocks. The answer is yes. Pairing together a global contract inspection presence with very unique tools allows us to participate in some unique and exciting projects – from mission critical systems inspections to historical artifact characterizations. This case study highlights our participation in "the resurrection of a historic Mickey Thompson Indy Car V8 engine block & head" as it was described by our client.
There are only a few sets of these, and two have made their way into our lab to be CT scanned to understand their integrity, and to be reverse engineered for retrofitting.
CT Review of Datasets
The first parts to be scanned were the two V8 heads. One sample had a large variety of indications – linear, cracklike defects in two zones, significant shrink and gas holes, and heavy circular porosity. There was also a significant FOD (foreign object debris).
The second sample was clean of indications except porosity, allowing our customer to proceed with their testing on a structurally sound sample.
CT Scanning the large Cylinder Blocks
These blocks are over 18 inches wide and 22 inches long. By offsetting the part from center in our system we can acquire datasets larger than our digital detector. The benefit is fewer datasets and data cropping, while a drawback is increased CT artifacts. By offsetting the part from center there is always some geometry outside of the FOV and conebeam, meaning an uneven x-ray exposure.
In total, each block required three scans along the vertical axis, and after aligning them each combined dataset was almost 500gb. We used surface scan geometry from our Hexagon Absolute AS1 to assist with the CT alignments.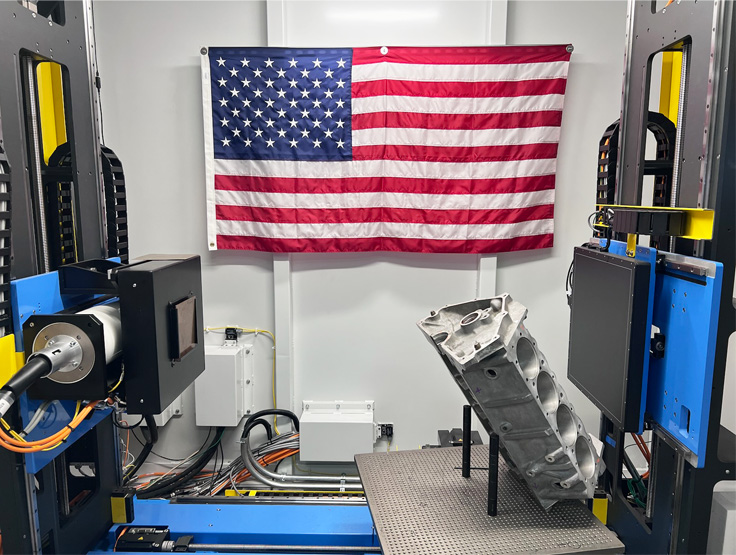 Reverse Engineering using CT Data
We reverse engineer products of all types – broken die steels, complex assemblies, and very large castings with internal, inaccessible features. By aligning CT data sets to surface scan geometry we can extract reference dimensions of internal features like water jackets & cooling channels, complex fittings, and wall thickness.
To learn more about our reverse engineering services visit this page: Scanning & Reverse Engineering.