Digital Radiography – Aerospace Turbine Blades & Vanes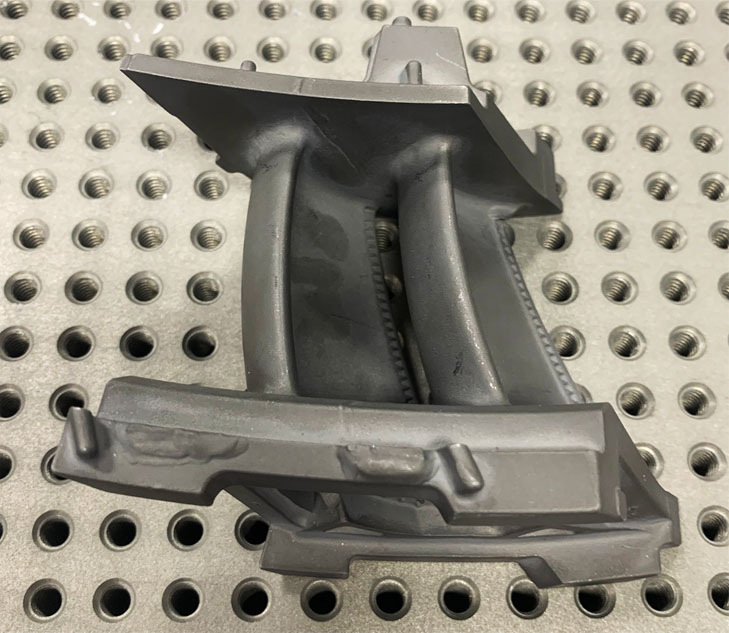 Digital Radiography of Turbine Blades & Vanes
Digital radiography is used to qualify aerospace turbine components during R&D and production.  This qualification is necessary because turbine compressor efficiency is primarily determined by uniform, smooth airflow. Further, because these components are exposed to extreme temperatures, blocked cooling passages will lead to increased maintenance and, ultimately, failure. While this page highlights core break, there are many defects we can detect including:
Porosity
Shrinkage
Cracking
Core shift
Core break
Inclusions
Image Processing
Image processing and enhancement offers significant benefits for non-destructive testing. The below image shows a blend of an x-ray and the same image embossed with edge detection. This gives 2D defects a 3D appearance to help better understand discontinuities. With a variety of tools at our disposal, we can offer insights beyond what typical x-rays offer. Some of these tools include:
Image sharpening
Local contrast enhancement
Embossing
Edge detection
Gray Value Equalization
2D Measurements
Contrast Measurements for Porosity
Below is another example of a standard, unprocessed x-ray versus the same x-ray embossed. While you can detect the voids and pitting in the x-ray, they are much more obvious in the enhanced image.