Industrial CT Scanning Medical Devices
Practical Inspections of Medical Devices
This case study is presented by Keith Irwin, 3D Metrology Manager, Haven Metrology.
During Christmas of 2022 my son was admitted to the pediatric intensive care unit for flu and pneumonia caused by a myriad of infections. He was unable to breathe and was anesthetized, intubated, and ventilated for over a week. I watched for 10 days as medical experts from many specialties worked to make my boy healthy again. This caused me to look at how my own trade plays a role. Throughout the stay I saw many of our clients' goods being used for his care, but also many things that I haven't had the opportunity to work on.
This post highlights use cases for Industrial CT Scanning of various medical devices. Non-destructive inspection of complex assemblies can inform engineers and designers how to better design and manufacture their goods.
Feature Alignment of Nebulizer
With industrial CT scanning it is possible to quantify misalignments, and by extension the changes in performance, inside a complex assembly. This nebulizer has a seating mechanism that guides the diffuser in-line with the baffle. However, a stack up of deviations or operator conditions can cause an offset between the two. Below you'll witness the diffuser diameter as well as its distance in a single coordinate direction to the baffle.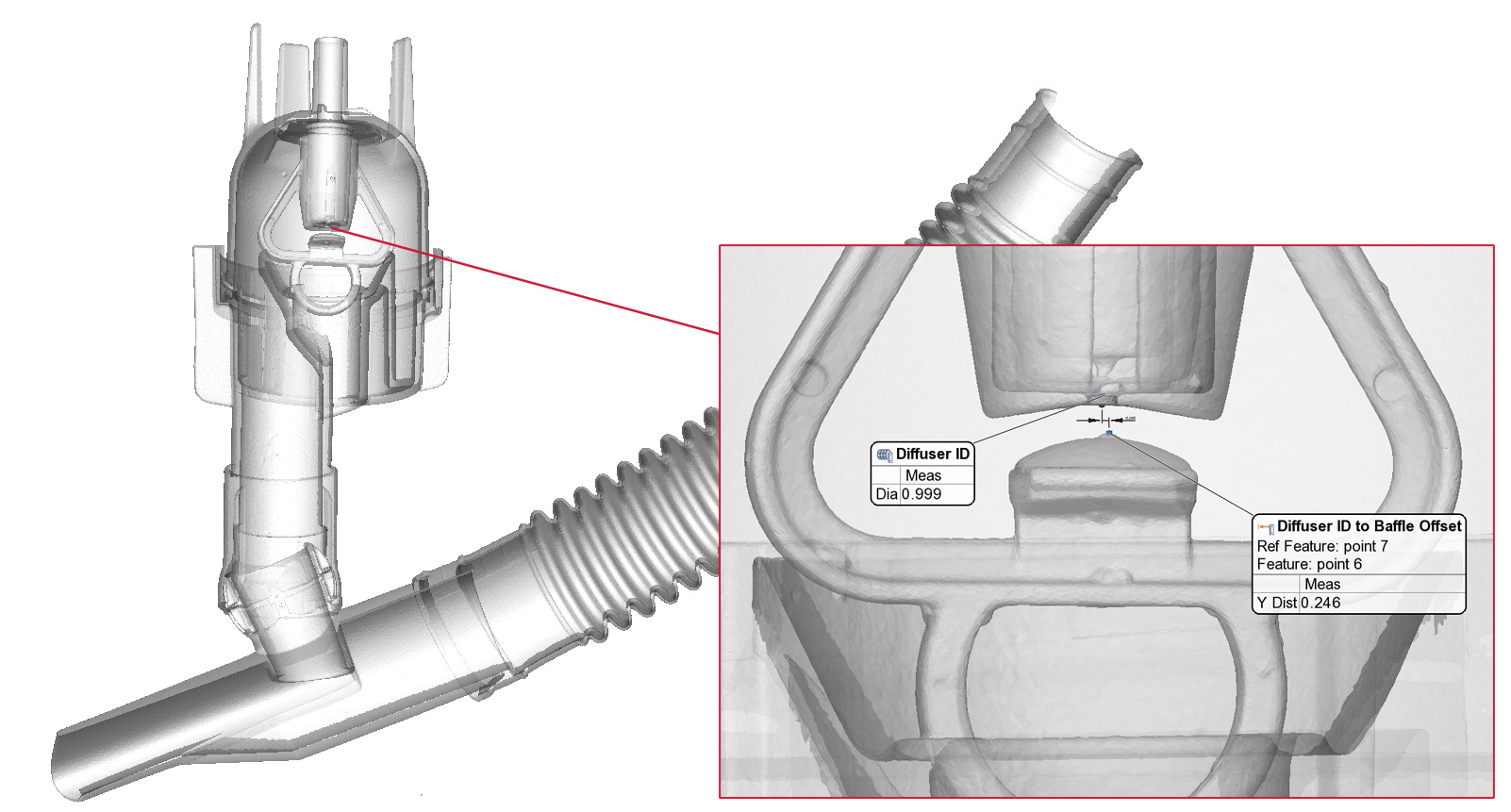 Seating Depth of Syringe to Feeding Tube Port
Individual parts may meet dimensional specifications, but the stack up deviation across many assembled parts leads to various defects – from improper seals, to rattles, or uneven gaps.
This oral syringe coupler presses around the feeding tube ports. We are able to check for depth of the pressed coupler, straightness, concentricity, gaps or leak paths. Porosity is also witnessed in the coupler.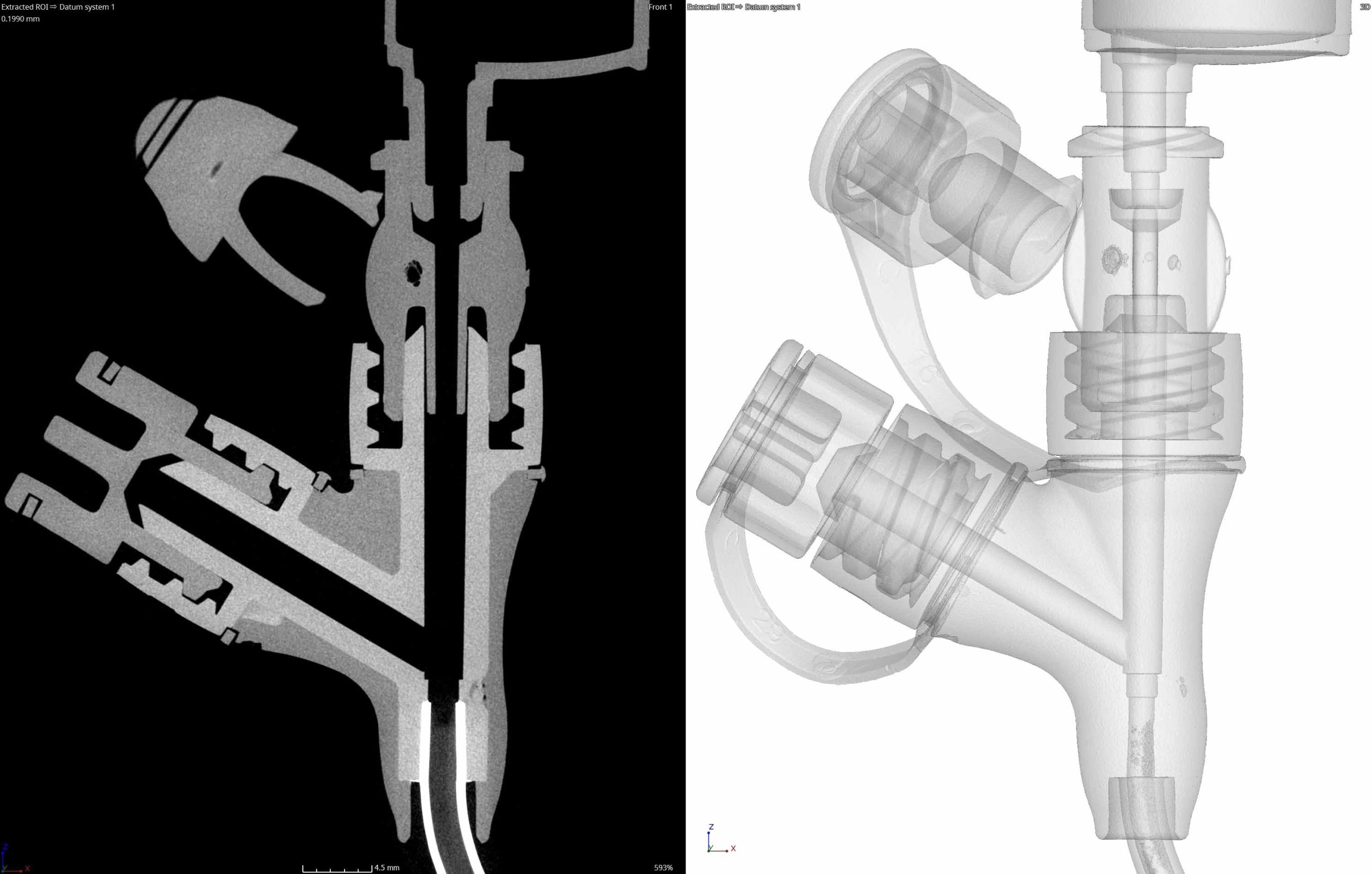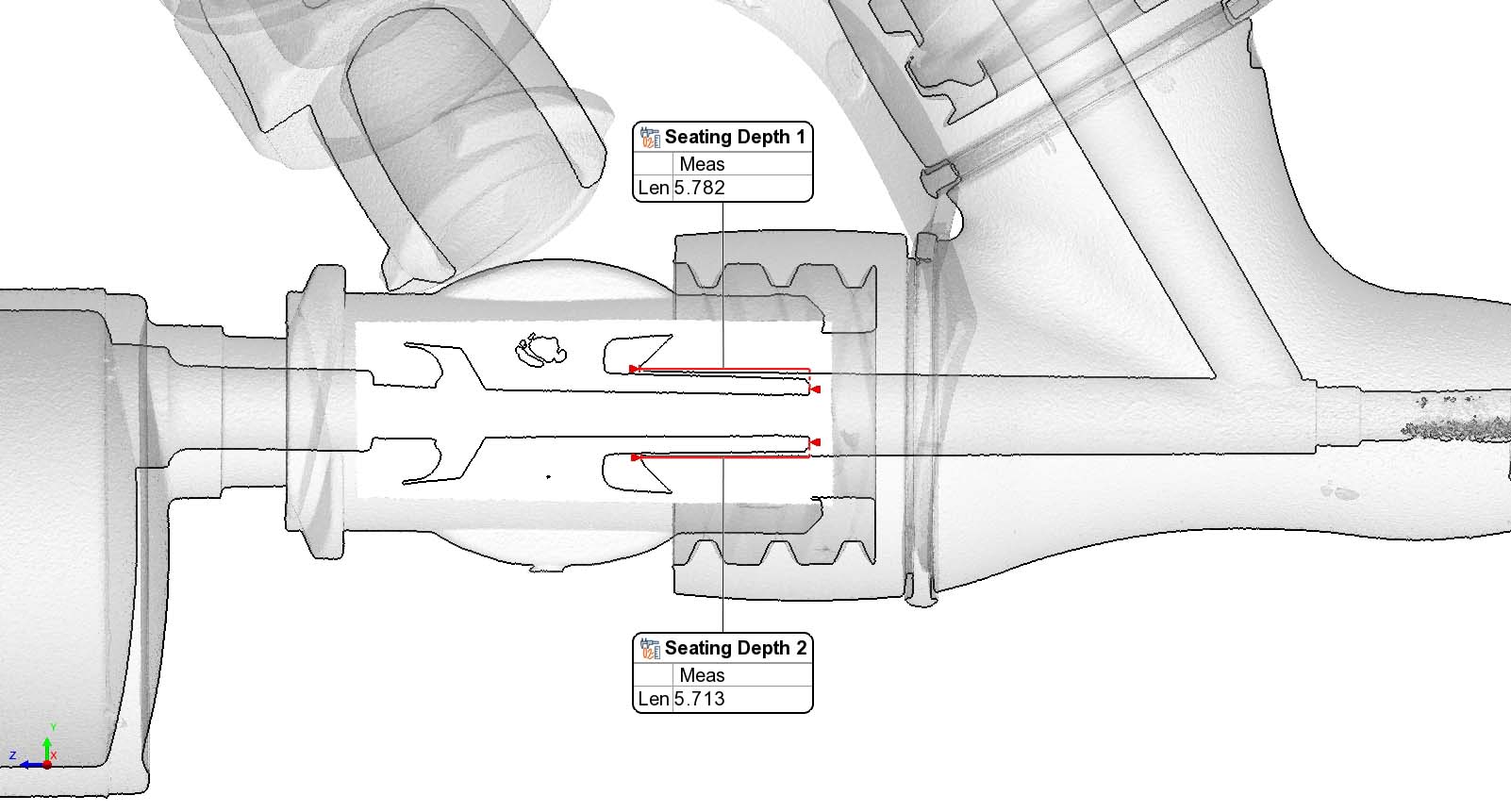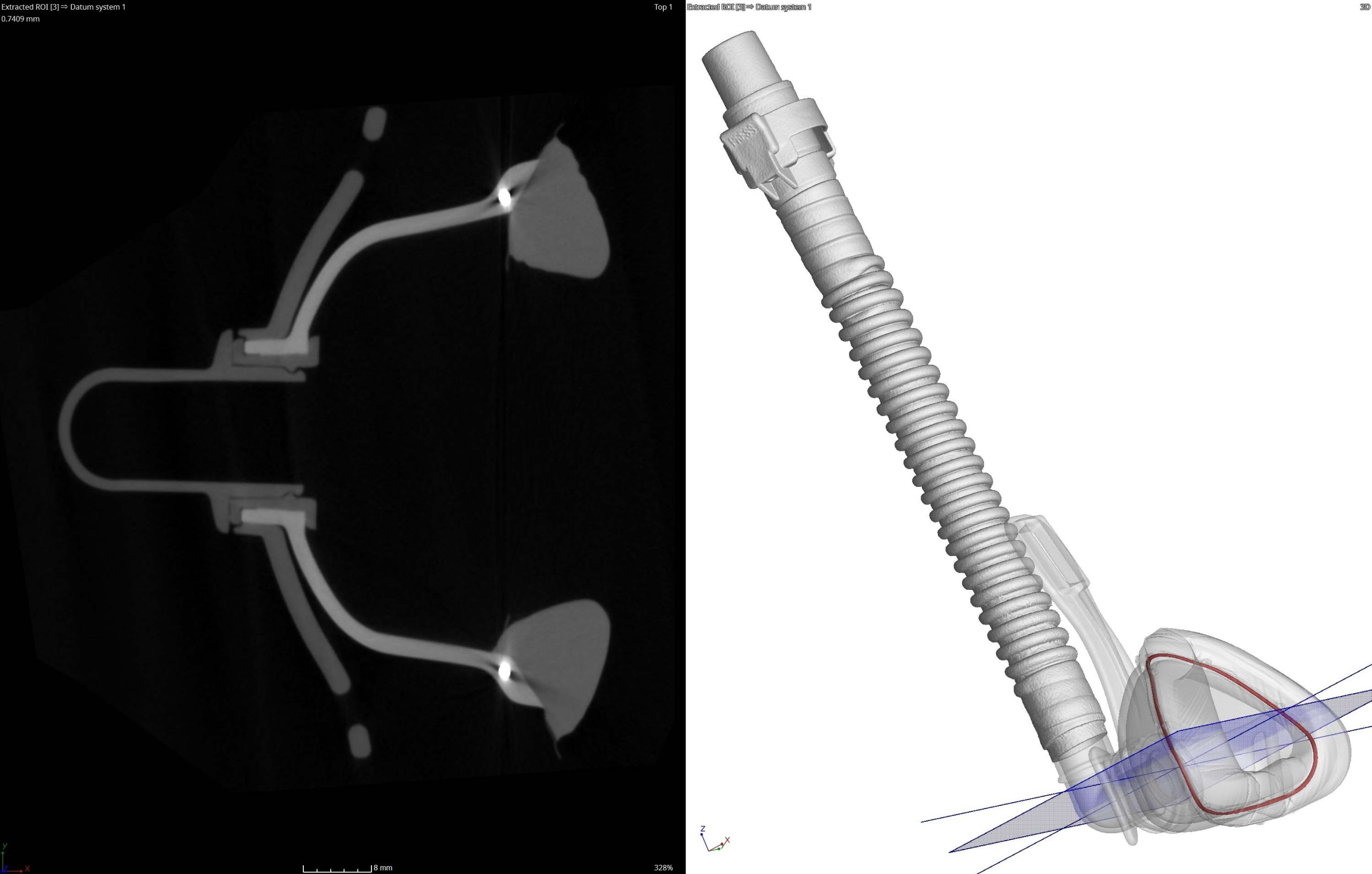 CPAP Profile Wire Guide Dimensions
The metal wire guide in this CPAP mask is used to maintain the shape and form of the flexible plastic housing and gel seal when applied to someone's face.
Conditions during assembly can affect the profile of the part intended to maintain the mask's shape. Using Volume Graphics we can extract this wire guide and inspect its dimensions post-assembly. If a part is passes inspection pre-assembly but fails inspect post-assembly an investigation into the cause can lead to better performing parts.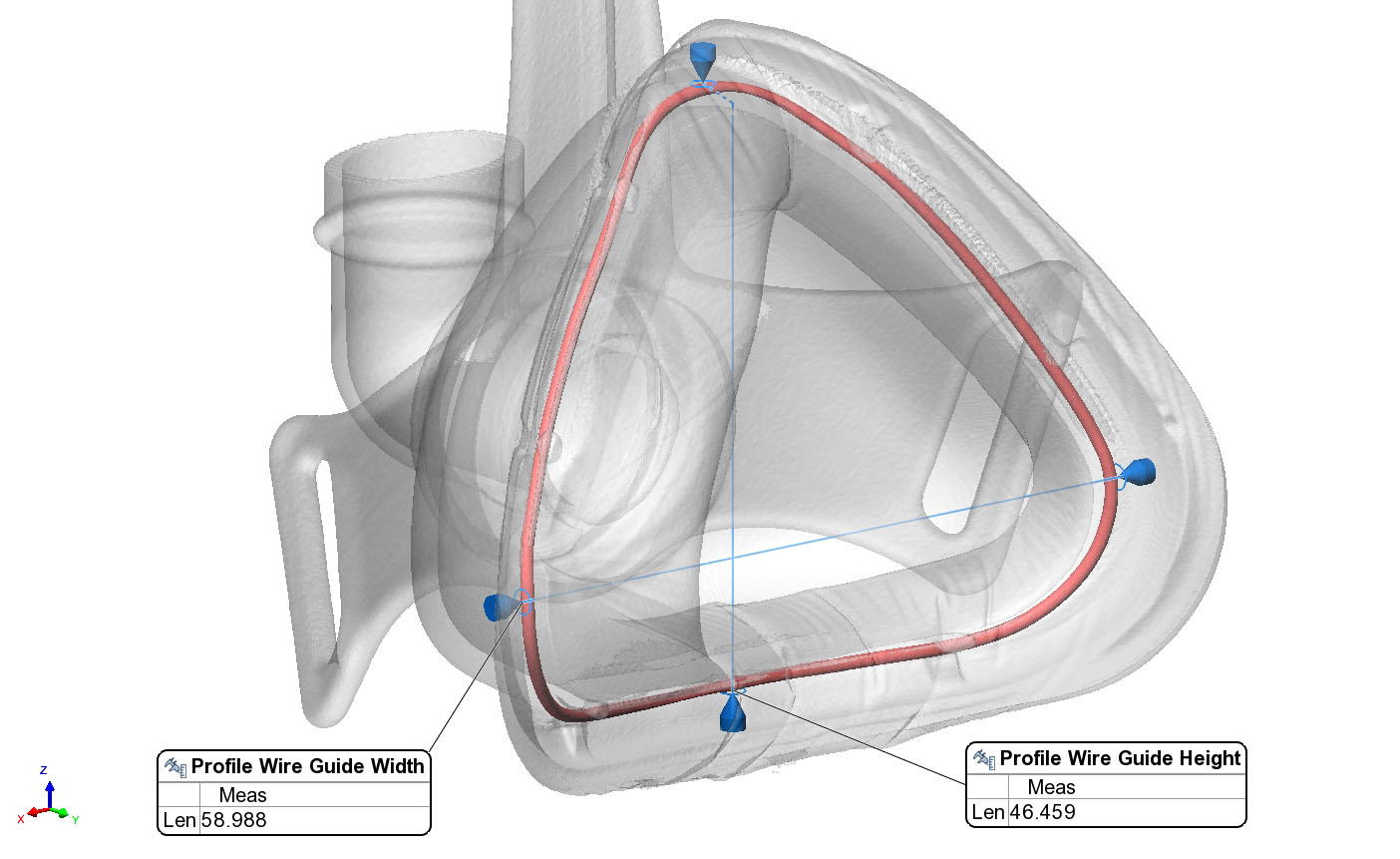 Oral Syringe Graduation Mark Volume Verification
Oral syringes are used to administer various liquids (medicine, food, saline, etc.) by mouth or intravenously. The most common syringes offer an accuracy of approximately ±4%. ISO standard 7886-1 describes the acceptable accuracy of these syringes.
But, how are they being inspected? Many of our clients have replaced measuring volume via liquid displacement with virtual volumetric extraction. This example demonstrates our ability to virtually cap the end of two syringes and extract the working space of the syringe. The plunger was placed right at the 5ml line.