DR & CT Scanning Large Castings
Large Capacity = Large Castings
Haven Metrology's first of its kind 450kv vault offers the industry's best resolution, weight capacity, working volume, and detector size and speed. Combining these strengths allows us to non-destructively evaluate the largest, most complex, and dense products.
This case study demonstrates these abilities by CT scanning a nearly five foot tall casting. Porosity and other defects are witnessed throughout the entire length of the part.
Of course, a part this large still requires multiple scans. To control realignment of the datasets we use our high accuracy, external surface scanners to create a polygonal skin. This is preferred over aligning to the design CAD because the part scan will account for profile deviation during alignment.
PolyWorks for Project Setup
Using PolyWorks we acquire, align, and measure the surface mesh scan file. Dimensions can be extracted including wall thickness, profile, basic dimensions, and GD&T.

Volume Graphics for Volume Analysis
The surface scan is imported into Volume Graphics. The scan maintains the coordinate system built in PolyWorks, and then each of the CT volumes is aligned within this coordinate system. Of course, Volume Graphics has its own alignment and metrology tools, but in this scenario and for other related work we relied upon the original setup.
We then can scroll through and inspect for internal defects – porosity, cracks, shrink, wall thickness, material density variation, and more.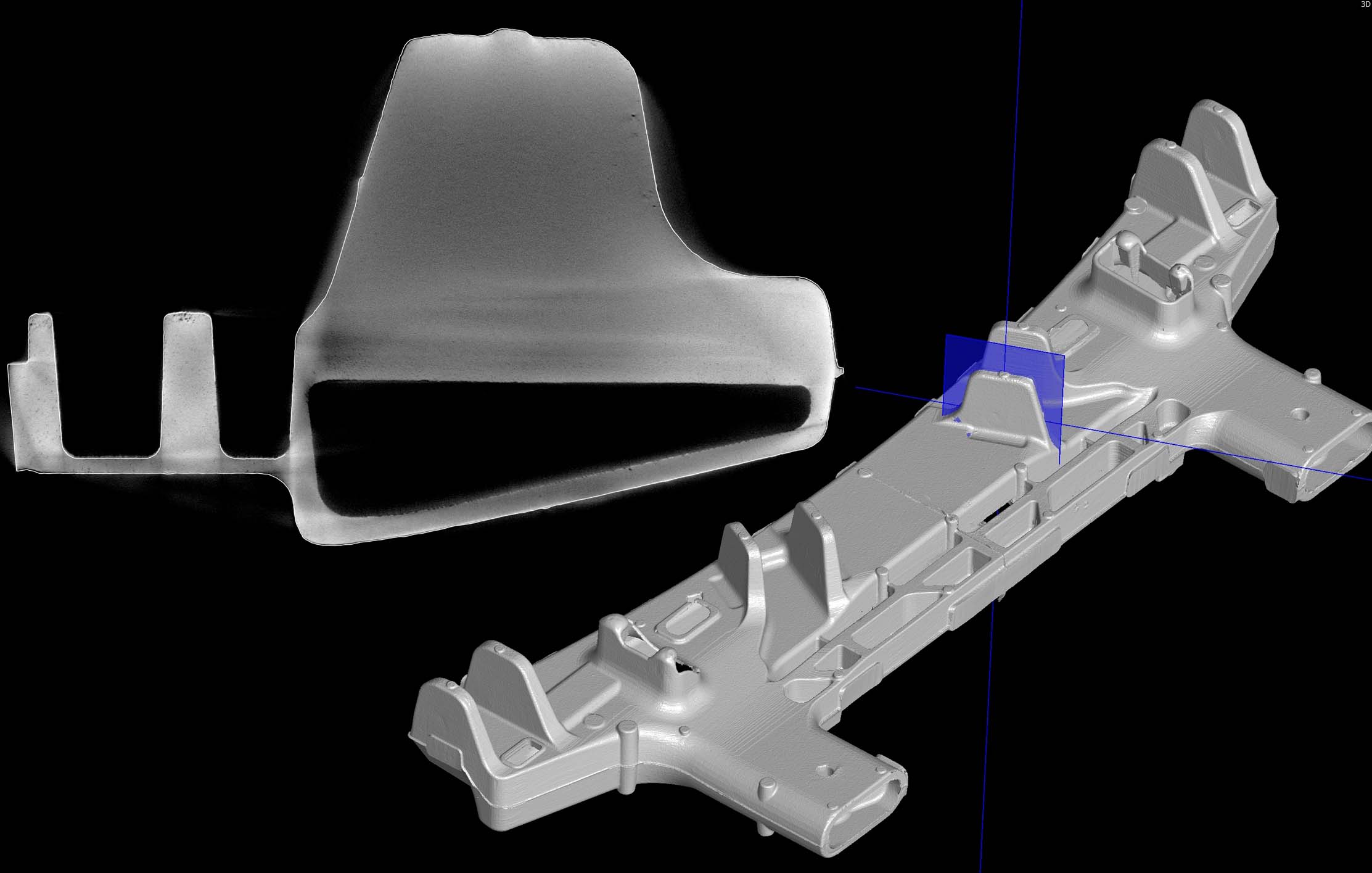 Importing TIFF Stacks
This video shows the ability to import TIFF stacks into Volume Graphics for DR inspection. Often, parts need to be in & out of our lab within hours. This method allows us to acquire an entire part in radiography for inspection at a later point.
With the entire part being acquired, we have every view and location and can transport through the part simultaneously adjusting contrast and frame averaging.